Today is Shakespeare's birthday, supposedly. We don't know for sure, we just figure it was probably today cuz he was baptized on the 26th, and at that time, babies were baptized when they were 3 days old. So his birthday is probably today. Happy birthday, Bard of Avon!
Today is my actual birthday, no supposedly about it. I love sharing a birthday with Shakespeare (and Sandra Dee, Sergei Prokofiev, and Shirley Temple). I'm 33 today, and Shakespeare was 36 when he wrote
Hamlet, Prince of Denmark
, which really has nothing to do with anything except that I've been feeling like writing about why I love that play, so this seems like as good a time as any. I think today I'll post about how I discovered it, and go into deeper stuff about themes and characters and identification another time.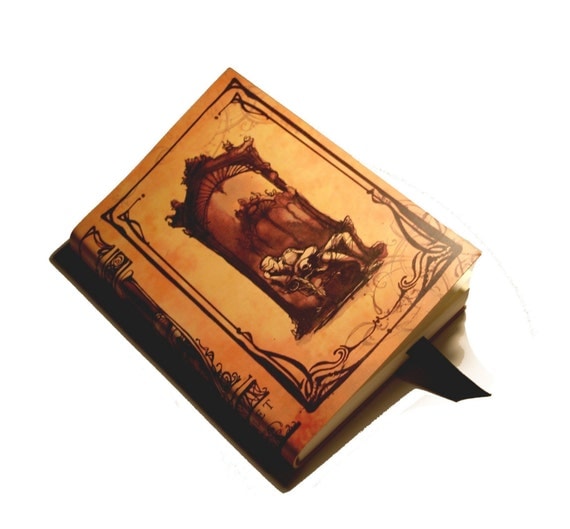 I bought this journal on Etsy a few years ago -- real leather and so gorgeous.
I first read
Hamlet
when I was 17, nearly half my lifetime ago. A year or so earlier, I had attended a presentation with some other homeschoolers staged at a local community college, a presentation about Shakespeare. Get the kiddies excited about the classics, that sort of thing. Well, my brother and I were
obsessed with
exceedingly fond of classic
Star Trek
at that time, and at this Shakespeare presentation, they recited some of his most famous lines and speeches, including several from
Hamlet
. And Johnnycake and I recognized a whole bunch of
Trek
titles! Like "The Conscience of the King," "Dagger of the Mind," "The Undiscovered Country," "By Any Other Name," and so on. I decided that I would read through all of Shakespeare's plays, searching for titles and lines used in
Star Trek
.
Yes. I started reading Shakespeare because I love
Star Trek
. See where good pop culture can lead you?
Okay, so I got this massive, red, gilded, leather-bound copy of The Complete Works of Shakespeare out of the library. I began at the beginning of the book, I think with
Two Gentlemen of Verona
. I toted it everywhere, even to the bowling alley at one point. I read and read and read, searching for those
Star Trek
references. And falling under Shakespeare's spell at the same time, of course.
Eventually, I ran out of renewals on that copy and had to return it. I'd only read five or six plays! I remember
Measure for Measure
and
Romeo and Juliet
and
Love's Labour's Lost
were among them. What to do?
I went and bought my own copy, of course. Paperback, weighs a ton, onionskin pages with teeeeeeeny print. I had to break the binding in order to read the words on the inner edges of the pages. Eventually, I got to
Hamlet
.
At this time, I was also
obsessed with
exceedingly fond of the word "dream." Any song that had the word in the title or used it a lot in the lyrics, I'd memorize the lyrics. Bought journals, t-shirts, bookmarks with the word "dream" on them. And guess what word is used eleven times in
Hamlet
? By the time I'd finished reading it, I was hooked. I memorized the entire "To be or not to be" soliloquy.
But I really didn't understand the play as a whole until I saw it performed. The first version I saw was Franco Zeffirelli's 1990 movie starring Mel Gibson and Glenn Close and Helena Bonham Carter and Alan Bates and Ian Holm. I convinced my parents to tape it off TV, and oh my goodness, it was obsession at first viewing. Revolutionized my whole way of thinking. I don't know how many times I watched that version in the year or so before I went to college -- probably half a dozen. Would have been more, except no one in my family wanted to watch it with me very often.
In college, I studied the play in two different classes, though both with the same professor. My senior year, I also got to help teach it in a class called Poetry and Drama that was part of an internship I did. I got to write and grade the tests on it, which was thrilling. Truly.
And here you see where my obsession has led me.
Okay, not all of these are "Hamlet." But most are.
These are the versions I like well enough to watch over and over.
I've seen ten versions on DVD/VHS, but I've seen it performed live only once so far. That once was on Broadway, with Jude Law in the title role, so I can't complain ;-) (Read what I thought of it
here
.) I have lots of Hamlet-related things, I've devoted
a Pinterest board
to it, I read all kinds of essays and critiques of it... and I'm constantly seeing different parts of it in a new way. It never gets old for me. Or, at least, it hasn't in the last 16 years, so I'm kind of guessing it never will.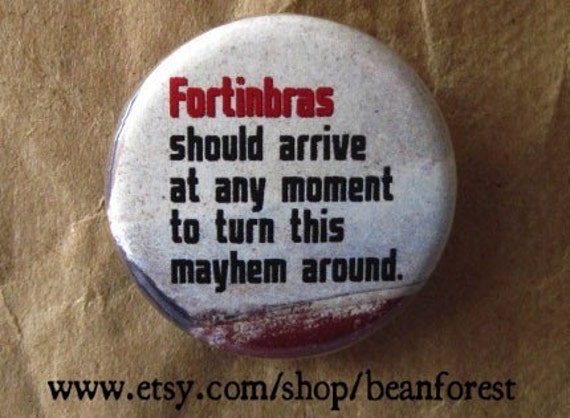 I have this as a magnet on my fridge. He still hasn't shown up, though.